Ken Ellis Art Exhibition Opening – "Cato & Co. – Behind the Stick, Behind the Veil"
September 3 at 7:00 pm

-

10:00 pm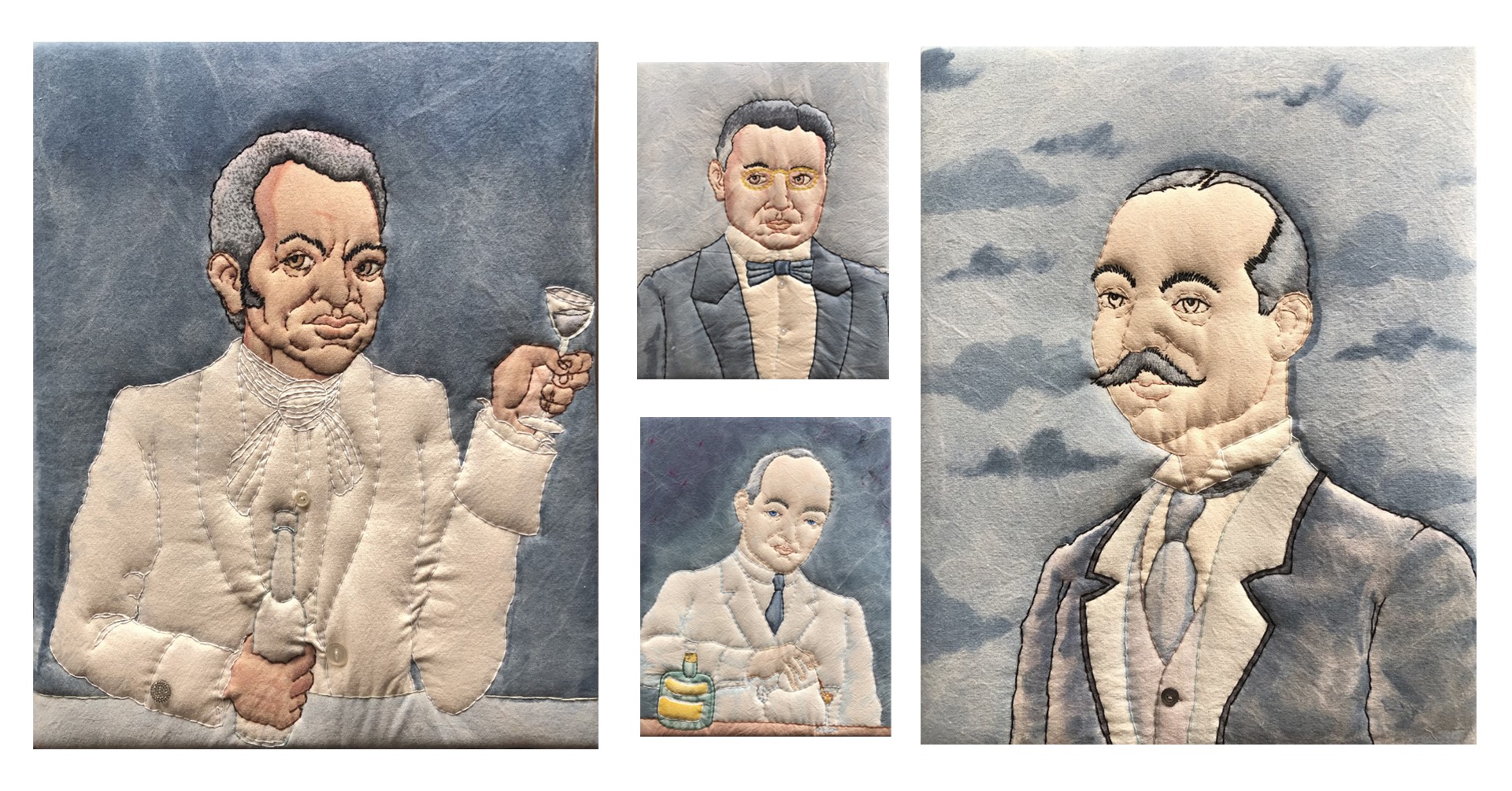 Cato & Co. – Behind the Stick, Behind the Veil" exhibition, will open Friday, September 3, 2021, at 7 pm at Thornton Distilling Co.
We're excited to announce a new exhibition by artist and barman, Ken Ellis. Join us for the opening party, next Friday, September 3rd and meet the artist and view this special body of work.
Chicago artist and sewist, Ken Ellis, has been in the bar business since 1977 when he got his start at Chicago's–and the nation's–first Punk Rock bar, La Mere Vipere. He later worked at O'Banions and NEO. Ken has been behind the stick at Wicker Park's Rainbo Club since 1986 until it closed its doors in March 2020 due to the pandemic. Rainbo reopened in May of 2021.
The focus on his own health prompted Ken to meditate on a new series of his elaborate, hand-sewn paintings. After chatting with a friend and fellow spirit industry veteran, Andrew Howell, about a commission piece featuring lesser-known bartenders such as Cato Alexander for the Tasting Room at Thornton Distilling Co., Ken dove into bartending history and was awestruck by the stories of many of the lesser-known bartenders who spurred America's mixology boom in the early 19th century prior to Prohibition. These talented mixologists were seminal in creating the cocktail industry around the world as we know it today. The pieces aim to create a dialog and share the important history that has been largely whitewashed away from the American cocktail origin story.
"Andrew first contacted me about showing at his craft distillery and asked if I would be interested in doing an interpretative portrait of the early 19th-century Chef/Bartender, Cato Alexander who was particularly known for his cocktails, the South Carolina Milk Punch and the Virginia Egg Nog. The idea snowballed from there." Ellis said.
"Although Cato was famous in his time, there are no known images of Cato. I found a description by New York historian Benson Lossing who described Cato as 'dignified, though illiterate' and 'was greatly respected by all who came into contact with him.' Andrew provided me some reading material by David Wonderich that featured Cato along with several other mixologists from the early 19th & up to the early 20th century which got the wheels rolling on doing the series which hits close to home."
Ellis' said.
"Cato & Co. – Behind the Stick, Behind the Veil" exhibition, will open Friday, September 3, 2021, at 7 pm, at Thornton Distilling Co. in Chicago's South Suburbs. A special cocktail menu by TDC Beverage Director, Bryson Ryan and will feature drinks created by the historic bartenders depicted in Ellis' exhibition such as Orsamus Willard's "Extra, Extra Punch", Tom Bullock's "Pequot Semer."
Ellis' exhibition will then move to Chicago's craft cocktail mecca and James Beard award winner, The Violet Hour, to be featured in their Lo-Fi (local fidelity series). The series will be on display for a special one-night showing Tuesday, September 28, 5-10p, with a special menu inspired by the historic bartenders featured in the exhibition.
Chicago Artist Ken Ellis' sewn pantings' embrace an impressive swath of cultural history – from African-American and Native-American experience–to nursery rhymes, the history of crime, and the Chicago punk rock scene. His visual sources and hybrid practice as a painter/quilter are, similarly, informed by a gumbo of visual traditions and interests, including popular illustration and comics, African American craft, Haitian Voodoo, and Asian art.
Ken is a native of Chicago and credits his interest in art to his father who taught him to sew.
Thornton Distilling Co., maker of Dead Drop Spirits is also the home of Chicago's Apologue Liqueurs and is located at 400 E. Margaret St, Thornton, IL 60476. It is Chicagoland's oldest standing brewery, built in 1857.